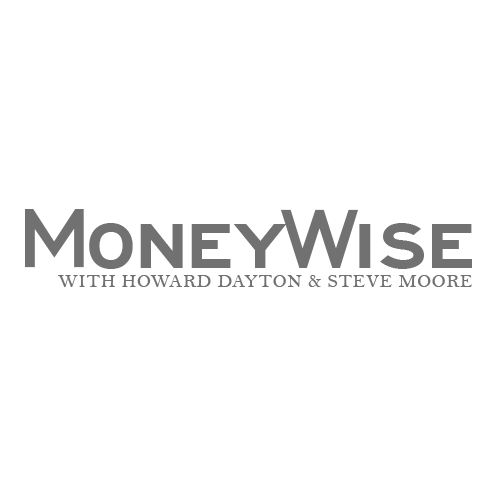 MoneyWise
MoneyWise is a 25-minute daily and weekend ("best of") program, squarely focused on teaching listeners how to manage finances God's way. Fresh, relevant, and fun, MoneyWise features listener interaction, expert guests, and an unbridled passion for helping people manage their finances in a way which pleases God.
Howard Dayton has spent over 25 years equipping people worldwide to faithfully apply God's financial principles so they may know Christ more intimately, be free to serve Him, and help fund the Great Commission.
After a business partner challenged him to study the Bible to discover what God teaches about handling money, Howard's life was profoundly changed. The Lord gave him a passion to share these life-changing principles, resulting in the authorship of five books. Howard founded Crown Ministries in 1985 which merged with Larry Burkett's Christian Financial Concepts in September 2000 to form Crown Financial Ministries. During his tenure as CEO, Crown became the world's largest financial ministry teaching more than 50 million people in 80 countries. He served as host of the nationally syndicated radio programs, Money Matters, How to Manage Your Money, and Ted and Tony. Howard transitioned from the role of CEO at Crown and in 2009 founded Compass—Finances God's Way. Compass' primary focus is on teaching God's financial principles through small group studies.
The program is co-hosted by Steve Moore, who has spent his lifetime in and around radio. He previously worked alongside both Larry Burkett and Howard Dayton for over twenty-three years at CFC/Crown Ministries.
Also available from Compass is Hey Howard, a daily 60-second short feature that focuses on answering listener questions with a practical, biblical and a good-natured approach to managing your time, talents and resources.
To learn more about MoneyWise, visit their website:

compass1.org/compass-radio/
"I cannot imagine a better firm. The words professional, outstanding, prompt, creative, knowledgeable and integrity just begin to describe our experience with Jack Hibbard and his team. We heartily recommend The Hibbard Group!"
Howard Dayton & Steve Moore
, Founder, Compass-Finances God's Way & Co-host and Executive Producer, MoneyWise